Why become a Yoga Instructor?
There are many reasons for taking Couples Retreat Yoga Instructor Training:
You want to deepen your practice, to find a deeper connection to yourself.
Learn some new skills, and take on new challenges?
You are ready to become a yoga teacher, to find your space within your local community?
Prana Yoga Healing in Bali is prepared well to guide you through this wonderful journey of self-discovery. Furthermore, taking a Yoga Teacher Training is a fantastic way to meet yourself, learn, and embody everything about yoga. Finally, you'll learn, how to teach a class, and plenty of practical advice, on how to create your personalized brand. And you'll feel confident to start teaching yoga classes after graduation. Prana Yoga Healing is a
Yoga Alliance Registered Yoga School
Moreover, all of our teachers are Yoga Alliance certified. And they are working as instructors, with a wealth of (life) experience. Learn more about the
200-hour couples retreat yoga instructor training
300-hour couples retreat yoga instructor training
Regardless of whether you are considering completing a yoga instructor training course to teach classes, or if are faced with a different decision or change in your life. The knowledge you gain will help you. So here are some
Very Valuable Things, You Might Not Expect
1. Step out of your comfort zone
During the yoga teacher training, you will frequently step out of your comfort zone. For example, it might be difficult for you, to speak in front of a crowd. But with each training, you feel a little more confident with it. And it will be one of the best feelings ever, to overcome your fear and insecurity step by step. That's why you will be incredibly proud of yourself after finishing the training. This shows, that you have to face difficult, scary situations to grow.
2. That you want to teach yoga
Many participants initially register for yoga teacher training to deepen their knowledge. Before the training, they do not intend to ever teach a yoga class at all. However, they take in so much know-how, and frequently they want to pass it on. Because they understand: Sharing is caring -  and there is hardly any more fulfilling activity than contributing! You get all the tools you need to plan and teach a yoga class. And the majority of the participants get the motivation to apply this knowledge.
3. That yoga is not just a physical practice
Participating in a 60-, 75-, or 90-minute yoga class is all about practicing yoga for yourself. You strengthen and stretch the body, and combine movement and breathing, to enter a higher state of consciousness. To support the mindfulness process, there is usually no theory in a regular yoga class, because the thoughts should come to rest. And as we are certainly less able to do so, during an anatomy lecture. The yoga teacher training always consists of a practical and a theoretical part. During the training, you always start with a morning yoga practice, And after that, you learn about yoga philosophy, history, anatomy, meditation techniques, and much more.
4. That it is not necessary to be able to carry out advanced positions to be a good yoga teacher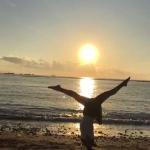 During the training, you will realize that your worries were completely unfounded. At this time, you may not be able to do a headstand or any of the other advanced yoga positions. But it won't matter at all. 99% of what is taught has nothing to do with these positions. And there is no obligation to be able to teach them at all. However, since the training is very intensive, you might earn some quite sore muscles after intense sessions. At the end of the training, you will stand on your head without thinking about it anymore.
Doing the yoga teacher training is the best decision ever for you. It turns your life upside down. Because yoga becomes now your passion. Even if you do want to make yoga your profession, but also if you want to deepen your knowledge, step out of your comfort zone, and are looking for a unique experience, you definitely should participate in the training. See you at the yoga teacher training!
---
Date
On individual arrangement Just let me know your preferred start date.
Price, Payment, Terms, And Conditions
All Prices are quoted in €, and per person. A deposit of 30% is required to secure your space. This is non-refundable, however, it can be used for future training within a 6-month period. Further, we request that applicants have a strong interest in yoga and leading a yogic life. We recommend that you have at least 6 months of classes or home practice.
---
Learn more about the
200-hour yoga instructor training
300-hour yoga teacher training
---
hot yoga instructor
couples retreat, yoga instructor,
hot yoga teacher
couples retreat, yoga teacher,
my yoga teacher
sexy yoga instructor
couples retreat
couples yoga retreat teacher
couples yoga retreat instructor
hot yoga instructor
couples retreat, yoga instructor,
hot yoga teacher
couples retreat, yoga teacher,
my yoga teacher
sexy yoga instructor
couples retreat
couples yoga retreat teacher
couples yoga retreat instructor
hot yoga instructor
couples retreat, yoga instructor,
hot yoga teacher
couples retreat, yoga teacher,
my yoga teacher
sexy yoga instructor
couples retreat
couples yoga retreat teacher
couples yoga retreat instructor
hot yoga instructor
couples retreat, yoga instructor,
hot yoga teacher
couples retreat, yoga teacher,
my yoga teacher
sexy yoga instructor
couples retreat
couples yoga retreat teacher
couples yoga retreat instructor
how to become a certified yoga instructor
private yoga instructor
yoga instructor near me
yoga instructor sexy
yoga instructor jobs near me
black yoga instructors
how to be a yoga instructor
sexy yoga teacher
best peloton yoga instructors
male yoga instructor
paul Grilley yoga instructor
private yoga instructor near me
yoga instructor certification online
yoga instructor training near me
become a certified yoga instructor
yoga instructor insurance