😇 Experience a Spiritual Healing

🙏

Receive Blessings from a Balinese Hindu Mangku

🚐 Bus tour to Shiva Temple, Pupuan

Pick-up
in Seminyak, Berawa, Canguu, Pererenan, Muhggu, or Mengwi area.
---
🙏 A Very Special

Spiritual Healing Experience
Spiritual healing is a well-thought-out ceremony performed by a healer to improve your mental or soul-related health conditions. People experience during healing many feelings, best described as the flow of energy, warmth from the healer's hands, or overall well-being.
---
😇 Receive Blessings From a Hindu Mangku
A Balinese Mangku (Hindu priest and spiritual leader) says prayers in the Balinese Language. On the Hindu island of Bali, these ceremonies are a part of the three times daily prayers and offering ceremonies. Further, the Mangku rings the bell, speaks to God, and sings the Sanskrit mantras of secret power. On the Spiritual Healing Tour with blessings at Shiva Temple, Pupuan a holy and untouchable blessing will be performed for you.
🚐 Tour to Shiva Temple, Pupuan
The Shiva Temple is unspoiled from mass tourism, not like the tourist trap Tana Lol. Its elevation is almost 1,200 meters above sea level, located on Bail's second-highest holy mountain Batu Baru. While you are receiving your healing blessings, in this very special, remote, quiet, beautiful, untouched, traditional temple, you will feel its powerful energy.
From its viewpoint, you may enjoy the outlook over the Tabanan area and the Bali Sea. You can listen to the sounds of nature because it is surrounded by rain forest. Smell the flavors of exotic plants, as well as the sweet smell of the incense sticks.
Pick-up
Let us know, where you are staying. If it is along our route, you will get picked you up at your home, hotel, or housing in Seminyak, Berawa, Canggu, Pererenan, Munggu, or Mengwi area. If not, we will arrange a meeting point to find together.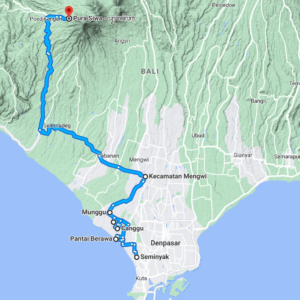 📅 Dates On Request
🕔 Pick-up times:
🚏 10:30 a. m. Seminyak
🚏 10:45 Berawa
🚏 11:00 Canggu
🚏 11:15 Pererenan
🚏 11:30 Munggu
🚏 11:45 Mengwi
Return will be between 5:30 and 6:30 p.m.