Join the Prana Healing Retreat Bali to learn powerful ways to enhance your quality of life. Enjoy daily wellness activities including yoga, meditation, and a blessing tour, while you soak up the magic of the Balinese culture.
The Prana Healing Retreat Bali
Retreat Bali Activities
Yoga healing classes
Detox yoga
laugh yoga
Energy yoga of the soul
Pranayama brearting exercise
Chakra cleansing and balancing meditation
Full moon meditation
Mindfulness meditation
blessing tour all-day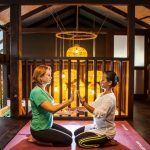 The Prana Healing Retreat Includes
3-night stay at a villa with a rice field view
transportation from the Denparar, Seminjak, Canggu region to Tabanan and return
daily breakfast including healthy juice
3 set lunch and dinner
1 x massage healing session
swimming pool
Date: June 15 to 19, 2022
Benefits of Laughing Yoga as The Best Medicine
You will take in more oxygen to help the body stay healthy by nourishing cells,
Increasing blood circulation,
Which makes people look younger.
Laughing Yoga is an abdominal exercise, so it even supports your digestion.
It boosts the immune system and reduces 40 percent of diseases,
And it is reducing high blood pressure.
Laughter Yoga even reduces stress hormones, adrenaline, and cortisol. Therefore, it makes the entire body more relaxed.
Also, it is releasing endorphins, which are happy hormones, and that eliminates the negative effects of stress.
Endorphins (a kind of morphine, that can be produced from the body itself) can act as a pain killer. And laughter is used as a pain relief tool.
Provides a sense of security and comfort,
And finally, Laughter Yoga helps to deal with depression and anxiety, by stimulating the production of serotonin. Serotonin is a natural antidepressant.