https://www.ispeech.org
Unfortunately, I need to inform you about the
Cancellation of Yoga Classes at Soham Wellness Center until July 21, 2021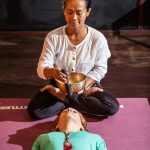 But you can book private yoga classes or prana healing, either as
W can come to your home, or you can come to Prana Healing Yoga.
Location and navigation:
Here is the official announcement from Soham Center:
Cancellation of Yoga Classes at Soham
"Dear valued partner,
Warmest greetings from SOHAM Wellness Center….
We thank you very much for your continued support of us.
SOHAM Wellness Center has taken several anticipatory steps. It follows the government's direction in response to the pandemic of COVID-19 to maintain a healthy and safe environment for members and employees.
Following the government's instruction, we would like to inform you that SOHAM Wellness Center is temporarily closed from immediately - 20th July 2021. And your membership will automatically freeze during those dates. The center will operate again on 21st July 2021.
While this is a hard reality to face, we know this is merely a temporary storm, we must all weather together, and for sure, we will pass it.
We do apologize for any inconvenience caused and thank you very much for your kind understanding. If you have any further questions, please email us at info@sohamwellnesscenter.com.
Stay safe & healthy,
Management"